Are you planning a visit to the Ronald Reagan Presidential Library? If so, I'll give you the quick summary and tell you what I thought in this post.
Overall: An absolutely enjoyable place to visit, even if you only have a couple of hours. The amount of history you'll absorb during your visit will really surprise you. Everything you recall about the 80s is dissected from multiple angles and you'll come away with a greater understanding of the Cold War, and Ronald Reagan's presidency.
Arriving at the museum
On the day we visited the library we actually attended a wedding in Simi Valley, and so we didn't arrive until early in the afternoon. You should know that the library is only open until 5 pm, but the grounds are open for at least another hour after that.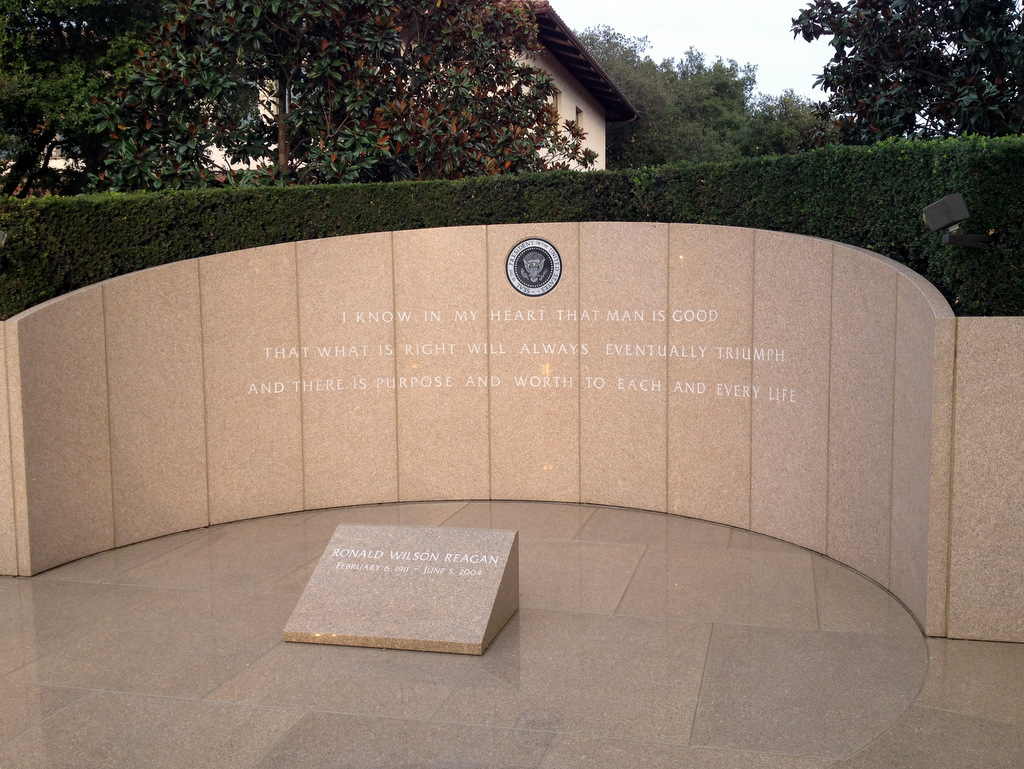 The museum is high up on a hill in Simi Valley, CA, and to put it mildly, there are not enough parking spaces. The parking lot next to the entrance fills up early each day (opens at 10 am) and after that visitors are expected to park on the road. The line of cars stretched for perhaps a mile and a half. The good news is that there is a shuttle that picks people up and takes them up the road to the entrance… we ended up walking, however, because the shuttle didn't stop where we expected. All things considered, it was a short 1 mile walk (at most) and we were even pushing a stroller.
The building is overall very spacious and modern, with plenty of lighting, high ceilings, and a non-rushed atmosphere.
Air Force One
See what it's like to be on the flying White House!
What can I say? This is definitely one of the highlights of our entire visit. Being able to walk onboard and see what presidential travel looks like was quite exciting. This airplane was used by Nixon, Ford, Carter, Reagan, George H. W. Bush, Clinton, and also George W. Bush. During George H. W. Bush's presidency this airplane became a backup plane and a newer set of 747s were introduced.
The airplane has been decorated with quite a bit of material from the Ronald Reagan era, including two laptops near the airplanes forward deck. I really wanted to take a picture of these laptops, but unfortunately they don't allow people to take pictures on the plane (which makes no sense!). The laptops were absolutely huge, and I believe were from 1984. They were used along with some other equipment in case of nuclear attack. They were right next to the "football."
The airplane has other materials from Ronald Reagan, including some original handwritten notes, and plates and a full kitchen configuration from the era. It's really worth seeing, and you can take as many photos of the exterior that you want.
Marine One
The Marine One helicopter that flew President Johnson is at the library right next to Air Force One. I was able to take photos from the inside (there are no restrictions) and it's easy to do a complete walk-through of the aircraft. It's a very impressive helicopter and worth the walk through.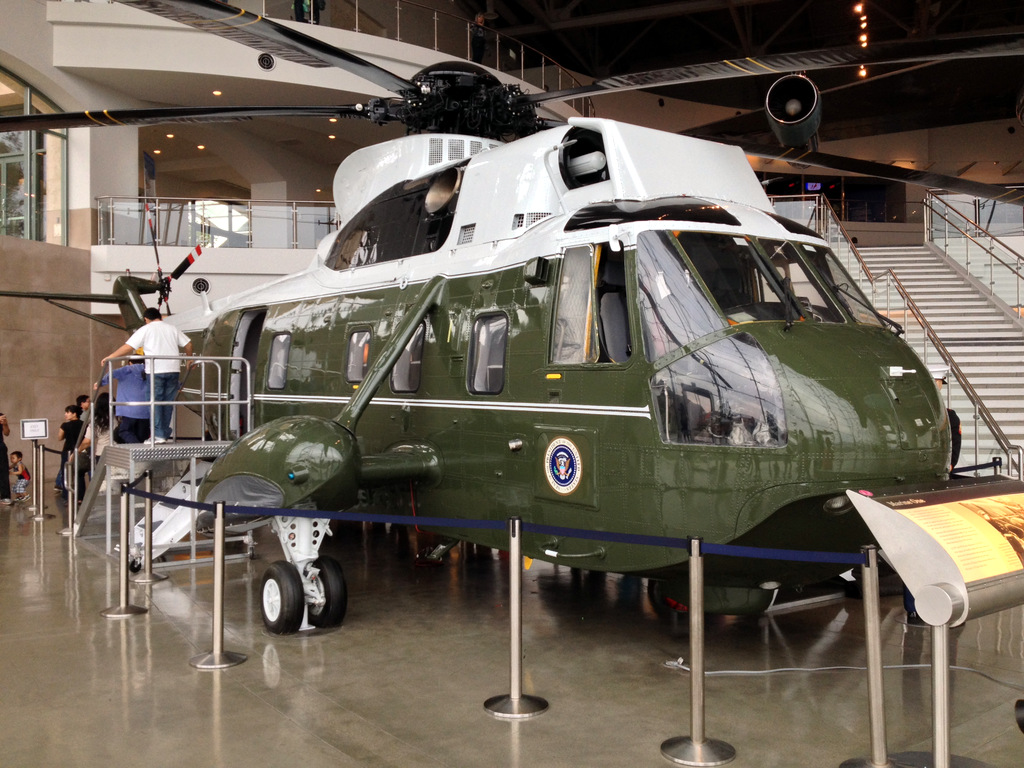 The helicopter used by Ronald Reagan is still in use today.
In 1967 this helicopter was assigned to the executive helicopter fleet, most notably during the Johnson administration. This was the same helicopter that Johnson flew on after making remarks about John F. Kennedy's death. The interior of the helicopter was renovated in 2013 and only opened to the public (as a walk-through). The restoration that was undertaken was mostly on the interior of the helicopter.
Vehicles
One of Ronald Reagan's presidential limousines is also on display along with several secret service SUVs and a police car from the 1980s. Simply looking at these vehicles you realize how significantly car aesthetics have changed over the years, and understand that safety was important, even then. But, also how many things have changed in just over 30 years. Notably, I think the current iteration of presidential limos are twice as thick.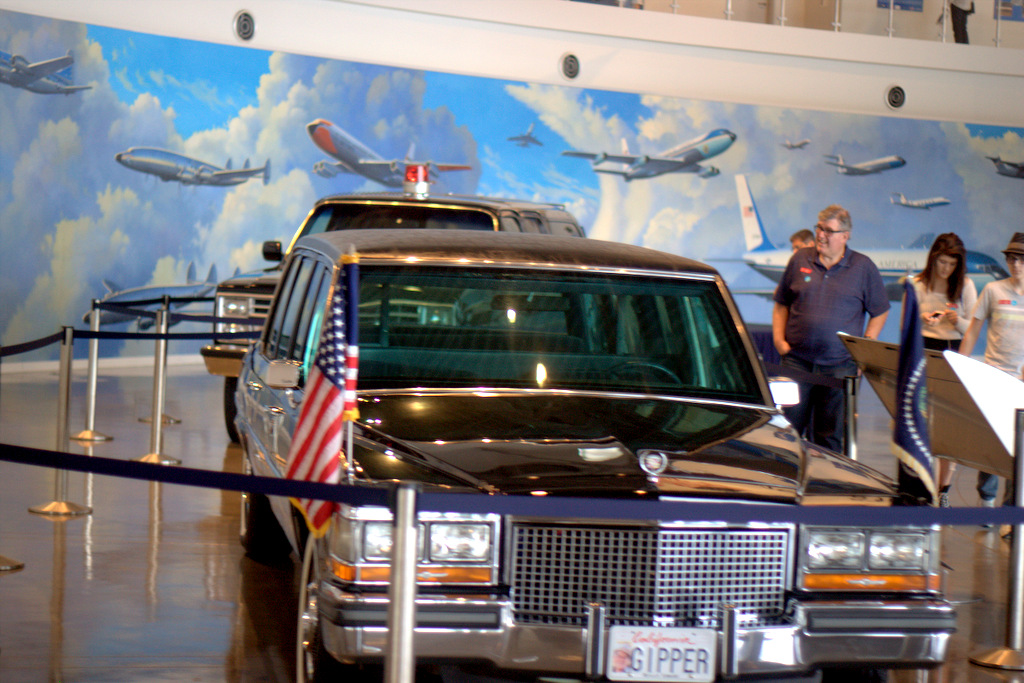 Jelly Bean Portrait
The Jelly Belly company created a portrait of Ronald Reagan made entirely from jelly beans. It's rather cool, and I took a short video showing the art. It is 4 feet by 4 feet and created by Peter Rocha with over 10,000 jelly beans. The artist first painted it in oil, and then covered it like you would make a mosaic.
President Reagan's Grave Site
Pay your respects at the grave site of Ronald Reagan. When Ronald Reagan died on June 5, 2004 he was laid to rest here, at his library. Above the grave is inscribed this quote from Ronald Reagan: "I know in my heart that man is good. That what is right will always eventually triumph, and there is purpose and worth to each and every life."
Ronald Reagan Pub
Have lunch at the Reagan Pub! Located inside the same building as Air Force One on the first floor. Back in 1984 then-President Reagan and wife Nancy visited Ballyporeen, County Tipperary, Ireland, and stopped at what was then O'Farrell's Pub. This was the home of Reagan's ancestors and they stopped to enjoy a pint with the town's folks.
Long story short, after Reagan passed away in 2004 someone discovered that the pub had closed down — it was then transported to the museum and you can enjoy visiting it today!
The grounds of the library
The outdoor grounds make up about 30 acres, which are beautifully adorned with dozens of oak trees (Reagan's favorite), and lots of flowering trees and bushes. The grounds contain replicas of the White House South Lawn, and the Rose Garden. If you come to the park on Veteran's Day or Independence Day you will find the area adorned with lots of flags and flowers. The outdoor areas are designed to have plants in bloom year round.
There is also a large piece of the Berlin Wall displayed outdoors on the lawn.
The main museum exhibit about Ronald Reagan
The permanent exhibit about Ronald Reagan's life is separated into several distinct areas, including the following topics:
Growing up & his ranch
Sacramento Years
The Hollywood Years
The Oval Office
First Lady Nancy Reagan
The Reagan Museum part of the tour includes hundreds of artifacts, some never before seen, and dozens of interactive displays and videos. The entire experience is spread across 26,500 square feet, not including some of the older displays like the Oval Office.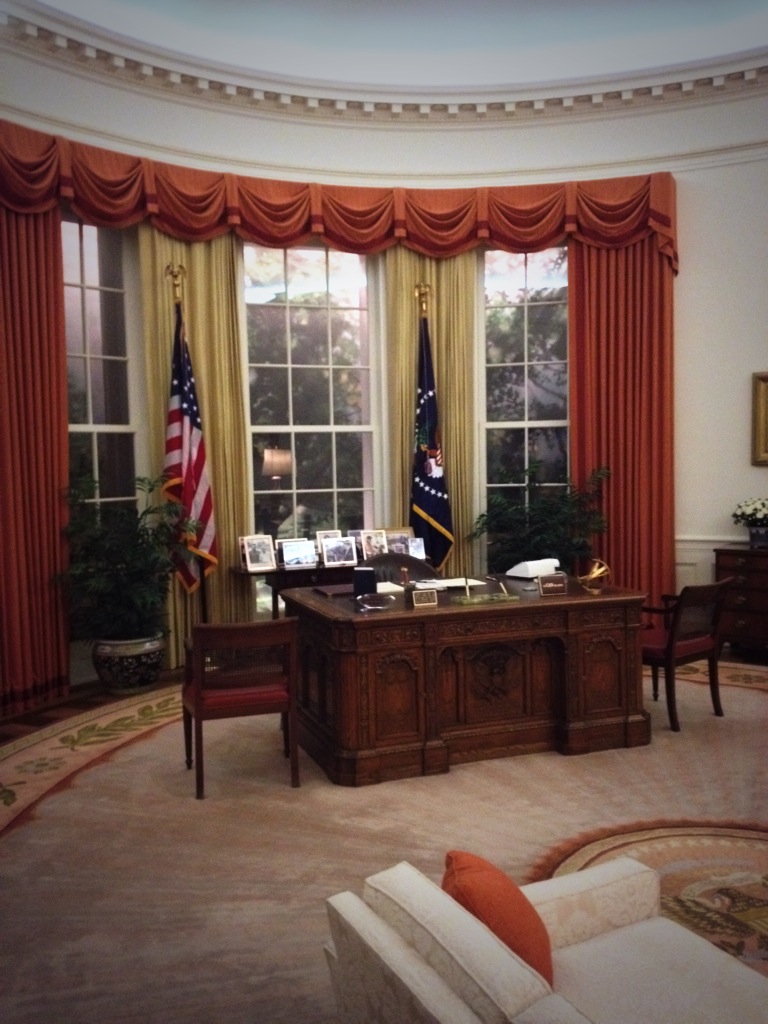 Some of the other things you can do at the museum:
Record yourself in a movie with Ronald Reagan — We did this with one of the GE speeches he delivered, fun stuff…
Deliver Reagan's inaugural address from a podium — You can try a teleprompter, and stand at the podium…
State dinner table preparations — We didn't get a chance to try this while we were there…
Learn about economic policies — Lots of learning opportunities…
Read the president's handwritten diary — It's a digital copy, but still interesting…
Get on a horse and take a photo with Reagan — This was a good photo opportunity…
It's a story of how an ordinary guy can grow up to be anything. Personally, I found the entire experience quite exciting.
Getting there
Ronald Reagan Presidential Foundation and Library
40 Presidential Drive
Simi Valley, CA. 93065
Museum Hours:
10 a.m. – 5 p.m. seven days a week except on New Year´s Day, Thanksgiving Day and Christmas Day.